Ginza Kikunoya was founded in 1890 (23rd year of the Meiji period), originally located next to where Kabukiza in Ginza stands today,and sold the highly acclaimed Kabuki Sembei.
Near the end of the Taisho period, Ginza Kikunoya came up with the idea of dry confectionaries for tea time and our famous ʻFukiyose' product was born.  Even today over 128 years later,due to its being introduced by the media, ʻFukiyose' remains our outstanding best seller.
Following the second World War, Ginza Kikunoya moved its main store and factory to Ginza 5 Chome, Azuma Road, but in 1971, moved again to B1 in the Ginza Core Building where it remains today.
It has been 128 years since the establishment of Ginza Kikunoya and we continue to strive to bring the delicious flavors of traditional Japanese confections to our beloved customers.
Product Line Up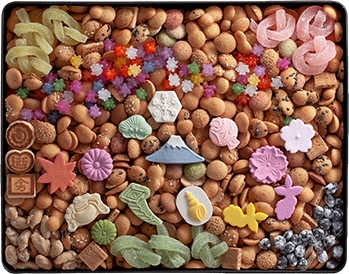 Fukiyose
ʻFukiyose' has long been loved as a tasty treat to be enjoyed with Japanese tea.
While maintaining the proud tradition of classical Japanese confectionaries, ʻFukiyose' has been made daintily into bite sized morsels.
Best consumed within 50 days after purchase.
ʻFukiyose', which has the meaning of ʻgathering fortune', is a jewel box of more than 30 types of Japanese-style dry sweets, including cookies made without butter, konpeito hard candy, wasanbon sugar and coated peanuts.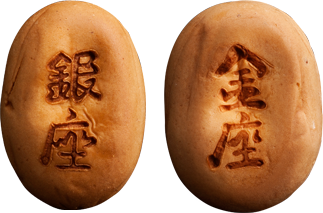 Kinza Ginza
Emulating gold and silver coins, Ginza contains delicious Kuri-An (sweet chestnut paste) and Ginza contains delightful Koshi-An (sweet Azuki/red bean paste).
Best consumed within 14 days after purchase.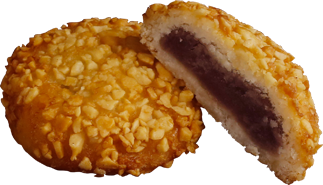 Age-manju
A decadent morsel of Koshi-An (sweet red bean paste) wrapped in a light, crispy shell covered with chopped macadamia nuts.  Best consumed within 1 day after purchase.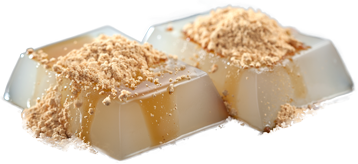 Kuzumochi
Made from premium wild arrowroot, Kuzumochi has a refined, natural fragrance with a smooth texture, and is best enjoyed when paired with Kuromitsu (brown sugar syrup) and Kinako (roasted soybean flour). 
Best consumed within 50 days after purchase.
Store Introduction
Headquarters Ginza Azuma Building
Address:1F Ginza Azuma Building,
5-9-17, Ginza, Chuou-ku, Tokyo,JAPAN
TEL:03-3571-4095
Business Hour: Weekday 9:30〜18:00
Weekend,Holiday 9:30〜17:30
Tokyo Station, TOKYO GIFT PALETTE
Address:Tokyo Station TOKYO GIFT PALETTE,
1-9-1, Marunouchi, Chiyoda-ku, Tokyo,JAPAN
TEL:03-3212-1086
Business Hour: Weekday 9:30〜20:30
Weekend,Holiday 9:00〜20:30
Shibuya Hikarie ShinQs Toyoko Norengai
Address: B2F Shibuya Hikarie ShinQs Toyoko Norengai,
2-21-1, Shibuya, Shibuya-ku, Tokyo,JAPAN
TEL:03-6427-2305
Business Hour:11:00〜21:00